Saints Alive
An artist resurrected a few saints, in order to let their body suffer the cruelty they had once suffered according to the pictorial tradition in European art. The chosen saints suffered all these very well. The cross-border experiments of an artist with sainthood in the National Gallery.
I could not imagine the reason of the long queue in the central hall of the National Gallery. I very well know that Brits are in a perverse way fond of queuing up, but I could only make the decision at my second coming to queue up myself. As it turned out, it was an exhibition of a contemporary artist – in the National Gallery famously specialised to show the artistic relics of the past. To be sure, these artworks were also connected by more than one threads to the collection of the museum.
Michael Landy (1963) became known as member of the Young British Artists group (YBA), which determined the British art scene in the 90s. His 2001 action entitled Break down, in which he ritually destroyed all his property in the empty building of a C&A clothes store, made his name well known.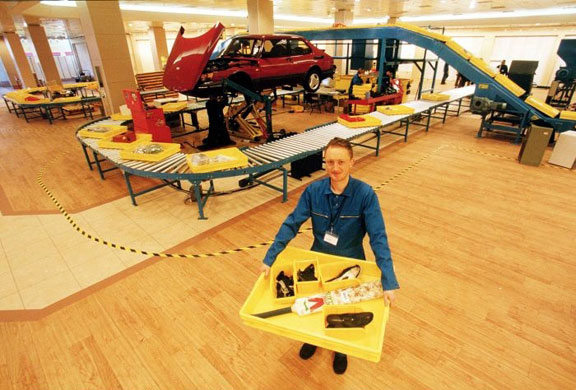 As it seems, courageous, even audacious, cross-border art was never alien from Landy. ON the contrary, as in the art of other member of YBA (including Damien Hirst or Landy's pair, Gillian Wearing), art for him is also shocking. It is only as such that it can let us think in a world, which attacks our minds with its all too strong impulses.
Landy became a member of the Royal Academy in 2008, and a bit later, the resident artist of the national Gallery. This position is a really exciting opportunity, as well as a challenge for an artist – he has to create in the treasury of the history of art, in the environment of the greatest artworks of European culture.
Such a context can have different effects on different artists. It can elevate you to the sky or it destroy you. Landy learnt more modesty here. It was clear from the beginning, he says in the portrait film, which follows the process of the birth of the exhibition that I cannot even reach them. Therefore I had to give up on that intention.
Landy did not do much more for a long time, but watching the artworks, and the viewers of them. From time to time, he started to draw them, the paintings that caught his attention for some reason. And so soon a heap of drawings was collected, sketches and copies, duplicates of some of the masterpieces. When he looked at them, he was surprised to find that most of them were portraying suffering saints. In this unintentional way the idea of the Saints Alive exhibition was born.
But what is the idea in all these happenings? To copy the image of saints does not sound in itself too exciting as a project. Landy's idea is the following: take some well-known paintings (among others by Botticelli, Crivelli, Pintoricchio) of saints (among others of Jerome, Francis, Saint Catherine of Alexandria)!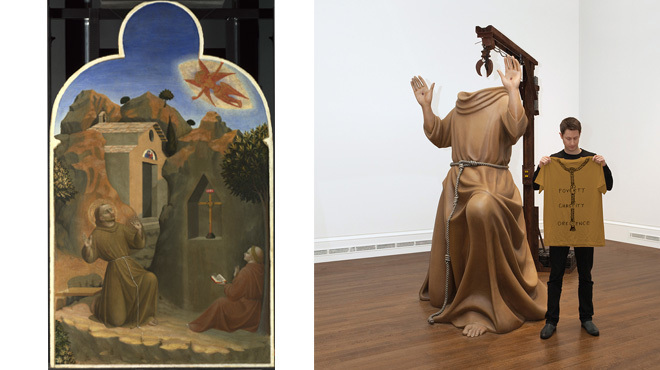 Let us pick put their characteristic motifs, bodily parts, make of them huge, kinetic sculptures, into which we build in a visible way machine particles, that cause them to move, and let us make them movable by buttoms that can be pushed by the visitors. This kinetic sculptures should also make noise with their movements, they should rumble and bang and creak, and then they will be suitable to cause real pain to the portrayed saint. The result: Saint Jerome starts to hit his bosom with a piece of stone, and doubting Thomas hits the wound of Jesus with his outstretched forefinger – by the single push of a bottom.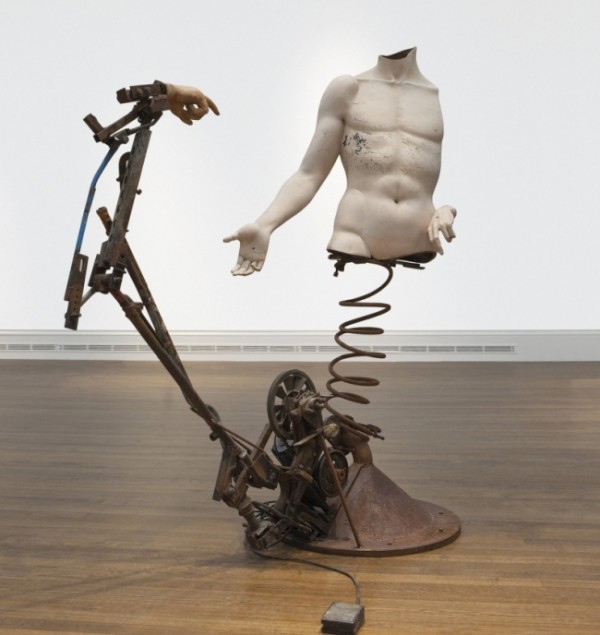 Shocking artworks, even poignant ones. And we are ourselves who cause these sufferings to our heroes. And if we do not do so, they will remain dead saints. Impossible situation, this way or that way, there is no escape from sinning. Or is it rather a playful idea? After all, they remind us of the great age of kinetic art, of the golden age of modernism. This way it confronts us with the past on two levels: these are kinetic rehearsals of classic paintings, connecting the classics and classical modernism, from the perspective of ironic posterity.
But beyond all these, i.e. playfulness, noise, shocking, we can sense something of the presence of saints. These sculptures of clumsy and contingent clod-hoppers cannot hide the fact that they present the suffering of once living human beings. And the artist obviously took part in the whole project with all his heart: he provides a full catalogue of pains in the huge collages on the wall, as if it was a children's picture book or an anatomy atlas. But through the meticulous representation of details these pictures of an artist who is himself a cancer survival with first hand experiences of suffering do not simply seem scaring. This way of presentation reminds one of the diligence of medieval craftsmen, and enables the artist to actually show us the sainthood of his beloved saints through their sufferings. The power which is born from their faith enables them to domesticate their pains. This way, on the whole, we do not simply take away pains with us from the exhibition, but the experience of real sainthood, resurrected as a result of the work of the artist's hands and eyes. Or to put it in a more simple way: a source of love, of unknown origin, but born in good faith and transcending human pains.